---
---
Honeymoon Wishes Honeymoon Registry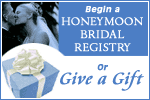 Since 2003, HoneymoonWishes.Com, a California Corporation, has provided the most advanced tool to create bridal registries centered on honeymoon gifts and experiences. Hundreds of thousands of wedding guests have enjoyed giving a
wedding gift from a Honeymoon Wishes Registry site. Honeymoon Wishes provides the online platform, not just to manage registry funds, but is a social tool allowing wedding guests to become part of this special time interacting with the couples and their destination.
HoneymoonWishes.Com
is
the world's leading and most trusted registry
having served over 120,000 couples. Global travel brands such as Sandals, Royal Caribbean, Carnival Cruise Lines, and Starwood as well as
108,000 travel agents and wedding professionals use HoneymoonWishes.com as their exclusive registry provider
. In 2010, to meet the demand of online experience registries expanding into Birthdays, Graduations and Anniversaries, Honeymoon Wishes proudly launched
CelebrationWishes.com.
Honeymoon Wishes has is in a unique position within the honeymoon registry industry as we can directly connect the couples to resorts, cruise lines and travel companies in destinations around the world. Many of our gift and experience registry options are specific to the resorts/cruise line/wedding venue making us much more than just a cash collecting service. There is no guess work when using Honeymoon Wishes, the items that are available have been carefully selected and showcased.
The dynamic background of the staff at Honeymoon Wishes gives testament to the professionalism and longevity that has been achieved. Each of us finds it a privilege to be pioneers in a field that we are all so passionate about; we hope that you enjoy learning a bit more about the people behind the scenes here at Honeymoon Wishes.
Receiving all the wonderful gifts your friends and family purchase for you is simple. When you set up the registry, you may choose from one of the following methods: have everything sent
direct to you OR
sent
direct to your hotel
.
How your gift monies are transferred will be determined by your chosen payment method, your resort and the specific gifts purchased. Please see "Notes to Couple" on each item when building your registry or, if you are logged in and have gifts already see your
Full Accounting
.
You may choose to have your gifts sent either:DIRECT TO YOU:
If you choose to have funds sent directly to you, gifts may be collected at any time, as many times as you'd like. You may:
OR
Send straight to your US bank account with our free unlimited ACH bank to bank direct deposit. This is the most efficient and secure method.
Have a check mailed to you via regular US postal service.
We cannot be responsible for lost mail -a great reason to "Go Green" and use the bank to bank
transfer service.
DIRECT TO THE TOUR COMPANY:
Certain gifts chosen will be coordinated for you with the actual service provider. For your convenience these gift purchases will have the funds transfer directly to the provider and they will organize the activity with you. Your friends and family will love that they are giving you real gifts to enjoy from your honeymoon registry!
---